Transportation Investment Act
In 2012, the Transportation Referendum passed in the regions of Central Savannah (Region 7), River Valley (Region 8), and Heart of Georgia (Region 9). These regions will implement a one percent regional sales tax to fund transportation improvements. Collection of these Transportation Investment Act (TIA) funds began on January 1, 2013.
In May 2018, voters of the Southern Georgia region (Region 11) approved a 1% TIA sales tax to fund transportation improvements; collections for the 10-year program began on October 1, 2018.
GSFIC transfers 25% of the collections received to local governments within each region.
The below files reflect TIA collections and the 25% distributions to the local governments.  Monthly TIA proceeds are reported to the Department of Revenue the month following the collection period. For example, June 2013 collections are due to be reported to the Dept. of Revenue by July 20, 2013, and not deposited to GSFIC until July 30, 2013.  The 25% distributions to the local governments was then made on July 31, 2013.  The "Tax Collection Month" references the month TIA proceeds were collected by local vendors. The "Payment Settlement Date" reflects the date the 25% distributions were made by GSFIC to the local governments within each special district. Beginning with the July 2019 collections, the 25% local government distributions will be based on revised FY2020 LARP factors. (January through June 2019 collections were allocated to the local governments based on the FY2019 LARP factors).
Related Links
State Agency Partners
Regional Commissions
TIA by Region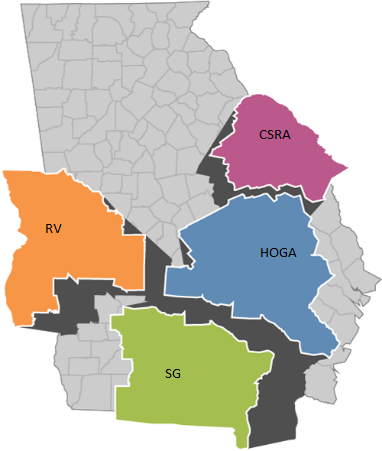 TIA Related Files Summary Information
TIA Related Files Summary Information
Region 7 - Central Savannah River Area (CSRA) Distributions
Region 7 - Central Savannah River Area (CSRA) Distributions
Region 8 - River Valley (RV) Distributions
Region 8 - River Valley (RV) Distributions
Region 9 - Heart of Georgia Altamaha (HOGA) Distributions
Region 9 - Heart of Georgia Altamaha (HOGA) Distributions
Region 11 - Southern Georgia (SG) Distributions
Region 11 - Southern Georgia (SG) Distributions
General Information
TIA Local Govt Authorization for Automatic Deposit Account Changes
Regional Map
TIA - Frequently Asked Questions (FAQ)
TSPLOST_Dept of Revenue_ Informational Bulletin_2012-12-10_-_updated