Georgia Gwinnett College Holds Ribbon Cutting Ceremony for New Academic Classroom Facility!
GGC_ABRC_2.jpg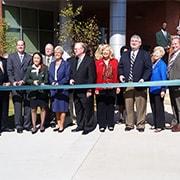 10.18.2016.
Georgia Gwinnett College celebrated a ribbon cutting ceremony to officially open a new 51,000 GSF academic classroom building. The building has been designed to allow for an additional phase at some point in the future.
The $10.75 million facility is comprised of administrative offices and classrooms. In addition, the facility has a tutoring center that includes study rooms, group study areas, and computers.
Quick Facts:
-GSFIC Project Manager: Megan Beasinger
-GSFIC CCS: Elliott Long
-General Contractor: Balfour Beatty Construction
-Design Professional: Wakefield Beasley & Associates