Southeastern Technical College Re-Dedicates Building at Swainsboro Campus
SETC_2.jpg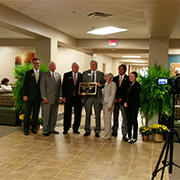 9.22.2016
Southeastern Technical College held a re-dedication of building two on the Swainsboro campus. The 39,413 square foot renovation cost was $8.8 million. The facility will offer the following programming: cosmetology, early childhood center, criminal justice labs and a diesel tech workshop. The building will also have a number of classrooms for general use.
Quick Facts:
GSFIC Project Manager: Bobby Cromer
GSFIC CCS: Jeffery Bleam
Design Professional: Hussey, Gay, Bell & DeYoung
General Contractor: Chris R. Sheridan & Company, Inc.