Lanier Technical College Begins Construction of New Campus
LTC_2.jpg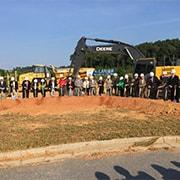 9.9.2016
Lanier Technical College held a groundbreaking ceremony to begin construction of a new campus in Hall County. The project will include numerous buildings consisting of 315,000 GSF and an estimated construction cost of $75 million.  Specifically, the new campus will be comprised of the following:
- An administration building will house a Student Success Center, library and adult education space.
- An allied health building which will include dental and medical assisting, practical nursing, paramedicine and radiology technician training.
- An instructional building which will include classrooms and computer labs.
- A technical and industrial (trades) building that includes welding, diesel tech, machine tool technology, cosmetology and esthetics programs.
- A conference center that can accommodate up to 500 people, culinary arts programming, café and student space.
- A campus support building consisting of the central energy plant (chillers only), economic development and ammonia refrigeration programming.
- Other campus features will include an amphitheater, commercial truck driving apron, live fire burn tower, outdoor fire lab and a wireless tech tower simulator.
Quick Facts:
GSFIC Project Manager: Megan Beasinger
GSFIC CCS: Ronald Wilson
Design Professional: Pond & Company
General Contractor: New South Construction