Wiregrass Georgia Technical College Holds Ribbon Cutting Ceremony for Health and Public Safety Training Center
TCSG-307_2.jpg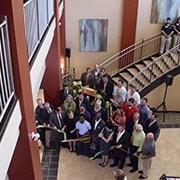 7.21.2016
Wiregrass Georgia Technical College, Coffee County campus, held a ribbon cutting ceremony for a 65,000 SF building to house the existing and expanding Allied Health program that was previously located in portable buildings. In addition to the Allied Health programs, the building contains classrooms for criminal justice, biology/chemistry, cosmetology and early childhood education. It also includes a library, bookstore, student center and support space.
The Coffee County Board of Education also has space in the new facility dedicated to the Career Academy. It will consist of reception and administration space, a welding lab, Rising Star classrooms and an area for food service.
The facility will enable the college to provide additional space for new and expanding programs to support Governor Deal's strategic industry initiatives and Wiregrass Georgia Technical College's Strategic plan. Douglas serves as the regional medical center for Southeastern Georgia.
In addition, the Wiregrass Georgia Technical College's Coffee County campus hosts one of only three firearms training simulators in Georgia.
Quick Facts:
- GSFIC Project Manager: Daniela Arsic
- GSFIC CCS: Everett Vickery
- Design Professional: Lott & Barber
- Construction Manager: Juneau Construction Company, LLC