Savannah State University Breaks Ground on Science and Technology Building
Savannah-State_2.jpg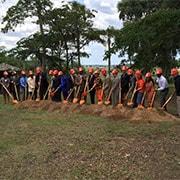 6.24.2016.
Savannah State University held a groundbreaking ceremony to construct two College of Science and Technology buildings. The first building, located on the main campus, is 29,941 GSF and will have faculty offices, teaching laboratories, and research labs. Classes offered at this facility will include environmental science, chemistry, forensic science, electrical engineering, civil engineering and computer science.
The other building, at 20,063 GSF, will be a research facility for the marine science program. It will be located approximately one mile from the main campus adjacent to a tributary. In addition, the facility will have a pier to enhance the ability to work on marine projects.
The estimated project cost is $15.62 million and scheduled to be completed in late summer of 2017.
Quick Facts:
GSFIC Project Manager: Demaurio Starks
GSFIC CCS: Jeffery Bleam
Design Professional: Hussey, Gay, Bell
General Contractor: Charles Perry Partners, Inc.