Coastal Pines Technical College Holds Groundbreaking Ceremony
TCSG-315-GB_2.jpg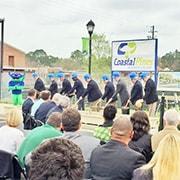 3-17-2016. Coastal Pines Technical College held a groundbreaking ceremony to construct a new classroom building. The 14,795 gross square foot building will cost approximately $2.961 million, to be completed Jan 2017. The facility will include instructional classrooms and labs for computer information system programs and a welding and joining technology program. In addition, the building will include faculty offices.
Quick Facts:
GSFIC Project Manager: Wes Berry
GSFIC CCS: Everett Vickery
Design Professional: Cogdell Mendrala Architects
General Contractor: Harper and Company Builders, Inc.