Central Georgia Technical College Holds Ribbon Cutting Ceremony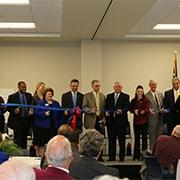 2.26.2016. Central Georgia Technical College (CGTC) held a ribbon cutting ceremony to officially open their new $15.4 million health services center. The 77,809 GSF facility will be comprised of classrooms, faculty and administrative offices, computer and health labs, science labs, student center, hydrotherapy pool and ambulance simulator.
In addition, CGTC is seeking certification under the Georgia Peach rating system.
Quick Facts:
GSFIC Project Manager: Dexter Dumas
GSFIC CCS: Frank Carr
Design Professional: Azar Walsh Architects
General Contractor: Parrish Contractor