Carmen-Cureton-Web.jpg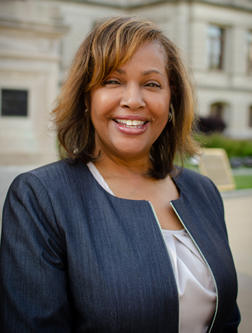 Carmen Cureton
Director, Construction Services
Carmen Cureton was named Director for Construction Services in July 2008.  She is responsible for the project management and operations of capital outlay projects for Georgia State Financing and Investment Commission's construction division.  Construction Services is divided into three sections; Design Review, Project Management and Quality Assurance.
Carmen has over 30 years of experience in Construction Project Management.
She has been with GSFIC since 1995, beginning her career as an intern and has been promoted through the ranks to her current position as the Director of Construction Services.
Prior to joining GSFIC, she served 10 years in the US Air Force in the 63rd Civil Engineering Squadron, Norton AFB, California.  She also served 10 years in the US Air Force Reserves at Dobbins ARB in Georgia during her tenure at GSFIC.
Carmen is a graduate of Georgia Institute of Technology with a Bachelor of Science Degree in Building Construction.  She is a current member and former President of the Georgia Association of State Facilities Administrators (GASFA).  She is also a member of the Women in Construction Association of Georgia.